New Maryland State Rep
11/07 - Congratulations go out to our very own founding president, Dave "Shasta" Scott, for being appointed to the new position of State Rep. This comes as no surprise as his management skills and leadership has lead to the MD-Eastern Shore Ruff Ryders chapter to be a shining example for all other chapters to follow.
"Chubby" Morris will succeed Shasta as our new president.
2-Wheeled Tuesdays
reprinted from:
(click above link for actual article & pics)
Pizza, friends and motorcycles
Eastern Shore Ruff Ryders meet once a week for eats and camaraderie
By Candice Evans
Staff Writer


SALISBURY -- Eastern Shore bikers wearing leather and black boots cruised into Route 12 Pizza's parking lot on Tuesday itching for good conversation and a full stomach.
"It's selling some slices and some subs, but it's more for the camaraderie," said owner Tony Scarborough. "Somewhere for them to go."
The MD Eastern Shore Ruff Ryders -- founded in October 2005 by David Scott and Ben Tate Jr. -- took the initiative to find a suitable location for bikers to meet once a week.
"We realized there was no bonafide bike night on the Lower Shore," Scott said. "To find this many bikers in one spot is a first."
More than 100 people gathered for "Two Wheel Tuesday" at the Snow Hill Road location, boosting business for restaurants in the area.
Next door, owner of Waterman's Cove Seafood Restaurant Lee Hastings said his Tuesday night business has drastically improved.
RR Member Jason Sander recommended Route 12 Pizza because of its racing theme decorated with black-and-white checkered flags against a bright yellow interior.
"We've been talking about it for a while and I have a motorcycle classic theme so it just works," Scarborough said.
Scott, 46, said bikers of different races, female riders, husbands and wives, and their children have started appearing weekly with a variety of motorcycles ranging from sports bikes, dirt bikes and cruisers.
Tina Smiley -- wearing a leather vest with an embroidered "R" for Ruff Ryders -- said she took up the hobby after cruising on the back of her husband's motorcycle.
"Now people will come up to us when we're stopped because they aren't used to seeing a girl on a bike. I just can't get anywhere," she said laughing.
Her husband Tracy, 42, said motorcycles are great conversation pieces and meetings like this gives bikers an opportunity to share ideas with other people.
Sander, 22, said the weekly hangout is also helpful when the group is riding for a cause.
MD Eastern Shore Ruff Ryders have organized a variety of events to serve the community by adopting families during the holiday season, volunteering at nursing homes and riding for Breast Cancer Awareness.
"We bikers tend to get a bad name," Sander said. "This makes it easier to get the word out."
Despite the heat Tuesday evening, bikers couldn't resist hopping on their motorcycles for a ride.
"It just looks good," Sander said. "I think it's every little boy's dream."
Tina chimed in.
"Or little girl's," she said.
cevans@dmg.gannett.com

410-749-7171 Ext. 234
Originally published August 11, 2007
(click Headline above to see the pics)
Ruff Ryders Spread Holiday Cheer At Local Nursing Homes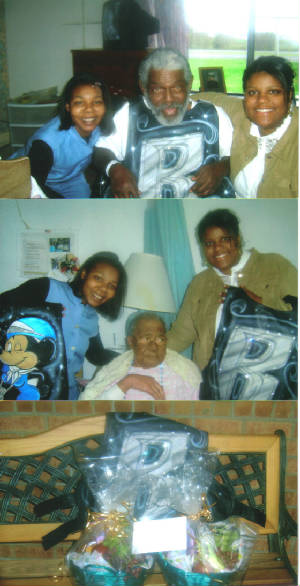 "Little Benny" Doin' It Real BIG!
The son of our VP, a freshman for the (#2) Auburn Tigers at Auburn University, rushed for 114 yards in only 7 carries to score 2 touchdowns against the Buffalo Bulls. Expect great things from this young man. Go Ben, GO!
*** UPDATE***
Ben continues to impress every time he takes the field with near record breaking performances. Follow his progress HERE.
------------------------------------------------------------------------------------------------------------------------